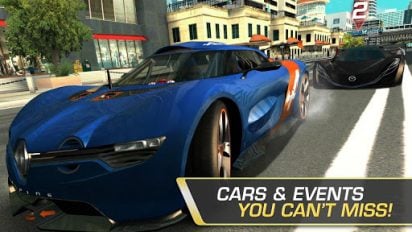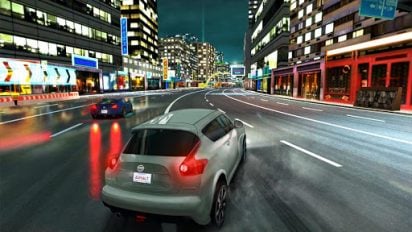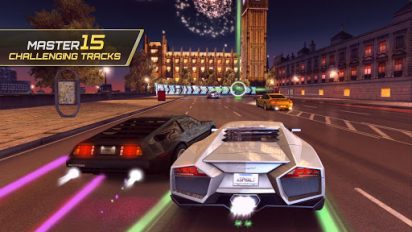 More about Asphalt 7: Heat
Tear the Road and Turn up the Heat with fast racing cars in Asphalt 7: Heat. Experience the high-speed races in supercars that will take you on stunning adventures around the globe. Comprising both solo and online multiplayer modes, Asphalt 7: Heat will test your skills as a race car driver. Single-player Career mode has 150 different events over 15 different tracks.
You will start the career mode with most cars locked. Starting off from simple cars you will have to learn the game modes and garage details. As you win more races and earn credits that will enable you to unlock bigger and better cars. To win the max stars and credits you will have to win the races while fulfilling all the tasks. Such as the first position for three stars, drift distance for one and ramp spins for one making them 5 stars for a perfect race score.
Asphalt 7: Heat game review
If you haven't tried the previous or newer installments of Asphalt then we recommend that you start from Asphalt 7: Heat. Your car will accelerate automatically unless you press to brake. Tilting the device left and right will control steering and drifting. You can kick off a drift by tapping the brake while turning. Another quick tip on the brakes will stop your drift.
Tapping on the right half of the screen, you will trigger the nitro boost. A meter at the top of the display will tell you how much nitro you've got. Drifts and other stunts get you nitro fuel. Once you pump the nitro steering will become distance. It is recommended that you punch nitro on a straight patch. If you need to make a turn, tap the brakes to end the nitro and enter into a drift.
The track selection, graphics, and high-speed music make the game super fun. There are regular circuit races with few laps, elimination modes, drift tasks, a demolition mode called "beat 'em all," and the point challenge "king of the hill" mode. Crashing other players and knocking them out will fill up your nitro tank.
It's a fun game with a huge fan following. To download the game just click on the download button above to start the download. Try the latest versions of Asphalt Racing such as Asphalt 8 and Asphalt Xtreme. Which is your favorite car? let us know your top score in the comments section below,
Category: Games/Racing
Operating System: Android
Price: Free
Technical file information
Package name:

com.gameloft.android.ANMP.GloftA7HM

Version:

1.1.1 (1110)

File size:

19.8 MB

Updated:

April 17, 2020

Minimum Android version:

Android 2.3.2 (Gingerbread, API 9)

MD5:

b8481f650a86c53bbc541933b40af74a

SHA1:

3773f6b4aafa5d1be7f6dc746151a479aec970c5